Welcome To The Midwest Bonanza Society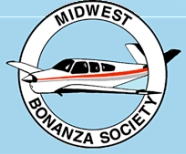 "A mile of highway will take you... well, one mile
but a mile of runway can take you - ANYWHERE!!!"

The MBS typically hosts 2-3 fly-ins and a few lunch events per year, as listed below.
We ares open to everyone regardless of aircraft ownership or flying experience. Membership allows you to get our emails and newsletters, and to sign up for events

Quick Help Tips for EVENTS: VIEW - ATTEND - EDIT - PAY
Anyone can view the Events (below), but you have to be signed in as a Member to do most anything else.
Because of the many fields in the Sign Up / Edit page of an Event, you must do this from a full-sized computer, not an iPad.
Click the [Read More] button below an Event to see the whole page of Event information,
and at the bottom of that page are buttons for [Email this Event] [Add to my Calendar] [View Attendees] [Sign Me Up]

After you sign up for an Event, the Sign Me Up button is replaced by [Remove Me] and [Edit My Registration] buttons.
The [SIgn Up] and [Edit Registration] buttons allow you to enter information about when you are arriving, who you are bringing and other 'free form notes', as well as a table of Activities that you can sign up for. You then receive a confirmation email and link to pay online!

Use the [Member Menu] drop down here on the Main Menu (above) for things unique to you, like uploading your plane photo or updating email preferences, etc.

NOTE: This is a POWERFUL website that was designed to be used from a DESKTOP or LAPTOP. Not all functions may work from a Phone or Tablet!