Welcome To The Midwest Bonanza Society
Premier Aviation Organization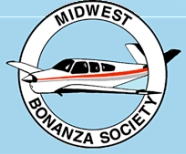 The MBS welcomes you to its home on the web!
Thanks for stopping by!
The MBS typically hosts three flyins and a few lunch events per year, which are conveniently located in various areas of the midwest.
These Events are listed in a column, at right. Some are 'Micro' breakfast/lunch events, others are 3-4 day weekends.
Though centered around the Beechcraft Bonanza, Baron, and TravelAir, the MBS is open to everyone regardless of aircraft ownership or flying experience. The only criteria to join us is the desire to share the passion of flight.
Membership is only $15/yr, and allows you to 'add your name to the database' to easily join Event and get our emails and newsletters. Just click on the Join/Pay dropdown.
Click Here to jump to the JOIN page
,